Social
Chic Spotlight: Wedding Map Artist Grey Hall
Chic Spotlight: Wedding Map Artist Grey Hall

Cincy Chic: You offer a unique touch for brides and grooms with your personalized wedding maps. But how did you come about creating these works of art?
Grey Hall, wedding map artist and personalized scarf designer: I love the idea of capturing a couple's courtship. I can't imagine anything more customized than all their favorite memories immortalized in an iconic watercolor. This is actually one of my most favorite things to paint because I learn all about each client — where the couple met, their first date, and the quirks of their relationship.
In fact, this idea transcends the bride and groom. It even makes for a perfect anniversary gift (year 1= the gift of paper or even year 50 when it becomes a collage of memorable flashbacks). What I enjoy most is presenting the completed painting back to the couple
and watching their eyes light up as they discover all the hidden details that are unique to only their story.
Ever since I can remember, I have been sketching, painting and creating. Wedding maps combine special memories and art into one composition. Miniature scenes or reminiscent icons come together, telling a life story.
Cincy Chic: Beyond the maps, you also offer custom designed scarves, which can bring the couples' honeymoon destination into play. Tell readers a little more about these creative fashions.
Hall: My newest endeavor, designing silk scarves, blurs the line labeling an accessory as merely an accent and elevates it to style as an art. Reflecting on a bigger meaning raised the bar for how I approach designing. I have always had a passion for integrating on-trend and fashionable design into everyday living. Understanding the impact of a simple accessory to change an outfit and even a woman's confidence to feel her best, my goal became to offer aspirational luxury brand style at an affordable price.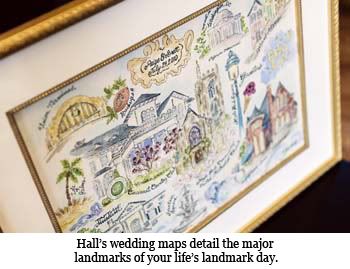 This mission was initially brought to life when the idea of designing honeymoon destinations as the subject matter was sparked. Grooms have purchased the Greek Isles and Caribbean silk scarves for their brides as a special memento of their send off together or even as a birthday or holiday surprise.
I'm always flipping through magazines, and pulling images here and there, populating endless art files for inspiration of print and pattern, as well as the unexpected fashion to influence the aesthetic choices within my next collection for the exotic honeymoon destination. Soon to be available: safari styles in sunset sorbets.
Cincy Chic: What else should readers know about your work?
Hall: I am extremely flattered to have coordinated with the Cincinnati Reds to design a proprietary offering just for them! You can certainly quiz me on all the history of the Redlegs, now that I've done my homework! I incorporated their rich history into an artistic composition reproduced on silk for a fashionable accessory when cheering on the ball club.
Cincy Chic: When you aren't working with clients, what do you like to do for fun?

Hall: I can't get enough time on the tennis court! I think running down balls and friendly banter across the net makes for the perfect day. And when it's not quite prime hitting season, I'm entrenched in the non-profit world.
Cincinnati Junior Council for Children's, benefiting the Charitable Care Fund for Children's Hospital

Professional Leader Network (PLN), mentorship program benefiting boy scouts (We just finished an event where I partnered with a boy scout to help him build his pinewood derby car!)

Starfire Council, benefitting disabled teens and adults

And a little bit of travel influences my latest blog posts.
Cincy Chic: What do you love most about Cincinnati?
Hall: I absolutely love the fantastic history of the Queen City and the entrepreneurial spirit that runs deep in our roots. Because Cincinnati has a rich legacy of artists, it is a treasure to appreciate free entrance to The Cincinnati Wing of the Cincinnati Art Museum.
For more information, visit:
PHOTO CREDITS
Photographer: Neysa Ruhl
Model: Grey Hall and her work

Location: BOOST…for meeting's sake