Social
Chic Spotlight: iSPYCINCY's Leah Zipperstein
Chic Spotlight: iSPYCINCY's Leah Zipperstein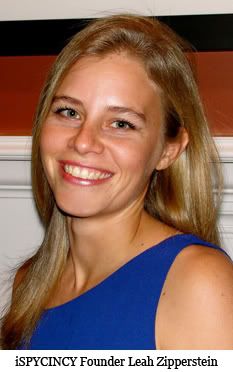 Cincy Chic: You started iSPYCINCY, but what brought you to make it happen?
iSPYCINCY founder Leah Zipperstein: My first job after graduating from Colorado College in 2008 was in the sports department at the [Cincinnati] Enquirer. I had a gamut of responsibilities from answering the phone to taking sports scores to interviewing some of my favorite professional athletes (Rafael Nadal, Misty May-Treanor, to name a few).
While my time there was invaluable, I have always been a self-starter type, and I had an urge to challenge myself in new ways. I thought what better way to explore my own potential than by branching out and starting a company, one that would meld my creative skills and passion for writing with the ever changing world of new media.
Cincy Chic: Tell readers a little more about what iSPYCINCY is all about.
Zipperstein: The tagline for iSPYCINCY is "(Un)covering the Queen City." And that is truly the purpose of the site: to either cover events and aspects of the city in an atypical fashion or to uncover the vibrant arts and cultural scene going on in Cincinnati that, for the most part, goes unnoticed. Cincinnati is a great city with so much to offer but for those out of the loop, the city sometimes gets a bad reputation, and part of my goal as editor of iSPYCINCY is to bring the positive side of Cincinnati to light.
Cincy Chic: This is for our Secrets issue, so what secrets have you discovered about the Queen City through your work with iSPYCINCY?
Zipperstein: I think the best kept secret about Cincinnati is all the amazing people that live here and the wonderful things they are doing to make this city great. The coolest part about my job is the opportunity to connect with these people, who come from all different backgrounds, but have one thing in common — Cincinnati.
Cincy Chic: What are some of your favorite experiences from spying around the city?
Zipperstein: Wow, there are too many great experiences to list, but here are some of my favorites: watching a dress rehearsal of Cincinnati Ballet's performance of "A Midsummer Night's Dream." What an unbelievable experience to witness these amazing dancers entertain like world-class performers and athletes on the stage.
Additionally, I loved covering the Reindog Parade in Mt. Adams. As a first timer to the event, seeing all those dressed up dogs, well it was downright adorable.
Finally, just the other week I went to the media preview of the Cleopatra Exhibit at the Museum Center. To be one of only five cities featuring the exhibition, as well as to meet with Franck Goddio, the researcher who has excavated most of the artifacts from underwater, it was such a special moment to be a part of in history and for the city.
Cincy Chic: When you aren't working on iSPYCINCY what do you like to do for fun?
Zipperstein: These days there aren't too many free moments when I'm not working on iSPYCINCY, but when I do take a break from the site, the athlete in me loves to get outside. I played on my college tennis team and am stilling playing interclub through the Five Seasons Cincinnati. I am also very excited to get back on the golf course. There is nothing like playing that first round of golf in the spring.
But probably more than golf or tennis my greatest passion these days lies on the ultimate field playing Frisbee. I play in a few of the leagues and am also the assistant coach for the Sycamore High School team. I first picked up the sport out in Colorado, the home of ultimate Frisbee, and am delighted that Cincinnati also has a great community supporting the sport.
Cincy Chic: What do you love most about Cincinnati?
Zipperstein: When I was in high school I wanted nothing more than to take a break from Cincinnati, get out of the Midwest and spread my figurative wings. Well, I certainly achieved my goal by studying at Colorado College, located in Colorado Springs, home to Pike's Peak and Garden of the Gods. It probably doesn't get more beautiful than that, but even in the most breathtaking places, there was something missing. And yes, it may sound cliche, but for me, Cincinnati is home.
I could search for another city, and on paper, there are probably lots of places that have stronger attributes, but the truth of the matter is you can find anything you need and more in Cincinnati: the arts, the schools, the parks, the restaurant scene. It's all here it just takes a little effort, and hopefully, by linking with iSPYCINCY all the greatness Cincinnati has to offer will be at your fingertips too.

PHOTO CREDITS
Photo courtesy of Leah Zipperstein