Social
Celebrate Red Cross Month
Celebrate Red Cross Month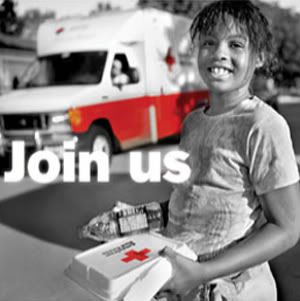 The American Red Cross invites you to
join them for Red Cross Month.
With springtime coming your way, you'll need every excuse to get out of the house, and we have the perfect solution. Get rid of your cabin fever with the American Red Cross — Cincinnati Region.
March is Red Cross Month, so it's a great time to get involved in one of the Red Cross' three main initiatives: disaster relief, military support, and safety and preparedness education.
1. Disaster Relief:
"Nationwide, the Red Cross responds to disasters nearly 200 times a day, providing shelter, food, emotional support and other necessities," Cincinnati Red Cross CEO Sara Peller says. "Here in the Cincinnati Region, we assisted over 650 local disasters last year. We provide support to the Tri-State Region, which consists of 25 counties in Ohio, Kentucky and Indiana, and we service over two million people."
The Red Cross' ability to help in all of those disasters would not be possible if it weren't for the numerous volunteers. Volunteers are to thank for 98 percent of the work done by the Red Cross, and you can join the effort. "Thanks to the support of people in communities nationwide, the Red Cross is there when needed most," Peller says. "People who join the Red Cross enable us to continue our work, both here at home and around the world."
2. Military Support:
The Red Cross military support provides that opportunity to put your time and talents to use in helping others around the world. You can help support the troops in their service to our country through actions as simple as answering the phone and making calls. "We provide a 24-hour link between those in the military and their families through emergency message services, emotional support, and assistance in military and VA hospitals," Peller says.
3. Safety and Preparedness Education:
Beyond volunteering, you can join in the Red Cross effort by informing yourself for the safety of you and your family. The Red Cross offers a variety of classes geared toward disaster preparedness and safety. With warm weather, you might be thinking about bikini season, but you also have to remember the dangers of water. The Red Cross is here to help with its water safety classes.
You also can learn other lifesaving skills like first aid and CPR. "Nationwide, we've launched an initiative to train five million people in 'hands only' CPR by the end of 2011," Peller says. "March is the perfect time to take 30 minutes to get trained in this simple lifesaving technique."
For more information about how you can join the Red Cross and get involved in Red Cross Month, check out CincinnatiRedCross.org. To learn more about exciting new features offered by the Cincinnati Red Cross, click the play button below.

Editor's Note: This is a paid advertising section provided by the American Red Cross – Cincinnati Region.