Social
Chic Spotlight: Purdy Everyday's Joy Lagdameo and Christina Mcdonough
Chic Spotlight: Purdy Everyday's Joy Lagdameo and Christina Mcdonough

Cincy Chic: You recycle items into uniquely designed fashions through Purdy Everyday, so how did your eco-fabulous company come about?
Purdy Everyday Co-owner Joy Lagdameo: One night after a yoga class, Christina [Mcdonough] and I started talking about starting a business. We came up with a name that night and everything just branched off of the name, Purdy Everyday. Purdy is short for "Pretty Unique Recycled Designs Everyday."
Purdy Everyday Co-owner Christina Mcdonough: Joy and I both recycle, compost, garden, etc. We care about the environment. So, we put together the things that we enjoyed.
Cincy Chic: Where do you find the items to recycle, and where do you get your inspiration for their repurposed designs?
Lagdameo: I find that each piece of material speaks for itself. I look at the pattern or cut of the material and can instantly envision what it should become. It is a process that I never imagined would be so easy or natural.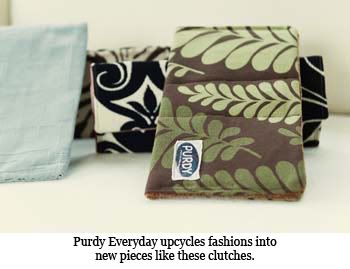 Mcdonough: Just talking about our company, we've received donations from family and friends (clothes, table cloths, curtains) that they no longer use. I get inspired by looking at peoples' bags and purses. I think about what I like. I talk to a lot of people.
Cincy Chic: What types of items can Cincy Chic readers expect to find at Purdy Everyday?
Lagdameo: We specialize in upcycled aprons; shoulder bags; wrist purses; and fun, trendy spring scarves.
Cincy Chic: What else should we know about Purdy Everyday?
Lagdameo: We like to teach fellow creative people how to sew. In the past year, we have created a little community of folks that we have mentored in their quest to learn how to sew. Sewing is not a hard task, but it is a little intimidating. I hope to expand this idea into an open sew environment for individuals to socialize and inspire each other while making projects independently.
Mcdonough: We also do custom Roman blinds, cushions, drapes — whatever you can imagine, we can upcycle!
Cincy Chic: When you aren't recreating fashion, what do you like to do for fun?
Lagdameo: My two passions in life are singing and dogs, so most of my free time is spent going to dog training classes and doing musical theatre in Cincinnati.
Mcdonough: When I'm not a home-body (which is my favorite thing to do), I play soccer on an indoor and outdoor co-ed league. I like to go to yoga classes. I walk 10 miles every Sunday. I love home-cooked meals and dinners with family. I love taking naps.
Cincy Chic: What do you love most about Cincinnati?
Mcdonough: I love that my siblings are close by. I love Northside — I can park my car on Friday and not get in it until Monday. I love the pockets of diversity and culture.
PHOTO CREDITS
Photographer: Neysa Ruhl
Model: Christina Mcdonough and Joy Lagdameo