Social
Bite-Size Desserts Filled with Flavor
Bite-Size Desserts Filled with Flavor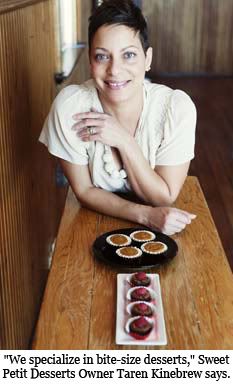 After a hearty meal or a hectic day, a sweet treat is all you need — but you don't need it to help you pack on the pounds. Sweet Petit Desserts has your answer.
This local online bakery lives up to its name with petit being the masculine form of petite. Their mini desserts give you the sweetness you need without pressuring you to devour a whole piece of cake, pie or whatever your sweet tooth desires. "We specialize in bite-size desserts," Owner Taren Kinebrew says. "In most bakeries around town, you can't just walk in and get a variety of petit desserts, so we wanted to offer that to our customers."
Available to order by the dozen, these pre-portioned desserts make for great party pleasers. You can order a couple dozen desserts, put them on a serving tray and you're all set for your guests to enjoy the gourmet selection.
The sweets even work well as holiday gifts. Sweet Petit Desserts will package your order how you wish, so your dozen of sweet potato tartelettes or mini Key lime pies can make for four boxes of three treats, three
boxes of four, or any other combination you see fit for your gift list. If you buy different desserts, you even can give your loved ones some variety. And at $12, $15 or $18 a dozen, you don't have to sacrifice your own holiday cheer.
You can be sure that your friends, family and co-workers will enjoy the gesture, as Taren only sells quality-tested desserts. "Everything that we have on our menu right now are all of the desserts that I love. I absolutely love everything that I make," she says.
In addition to their customized packaging and flavor-filled desserts, this local bakery gives you a couple unique benefits. "Everything is freshly made, and we actually deliver in the Tri-State area for free as an incentive to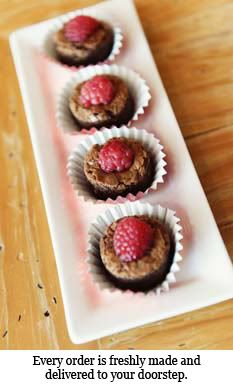 our customers," Taren says. So you don't have to worry about end-of-day buys being stale or facing icy roads and holiday traffic, as every order is made-to-order and delivered to your doorstep.
To get started, you can go to SweetPetitDesserts.com, review the menu and send your order via the Contact tab. Before you pay for your order, Taren will contact you to confirm your request and work out the details of delivery.
To learn more about Sweet Petit Dessets first, check out SweetPetitDesserts.com or e-mail info@sweetpetitdesserts.com.
You can get a taste for Sweet Petit Desserts and meet Taren herself at this year's Cincy Chic Seasonably Chic Showcase. To learn more about what you can find at the event from this online bakery, click the play button below.

Editor's Note: This is a special advertising section provided by Sweet Petit Desserts.
PHOTO CREDITS
Photographer: Neysa Ruhl
Model: Taren Kinebrew
Location: Cincy Chic office