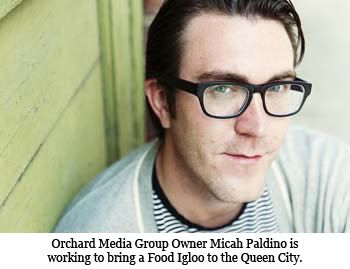 Cincinnati has a growing offering of mobile street vendors. You can grab a taco at Senor Roy's Taco Patrol or get your burger and fries fix at Cafe de Wheels. But as winter brings colder temperatures, fewer people want to brave the weather to get their lunch from these mobile food establishments.
Orchard Media Group Owner Micah Paldino is working to change that. He's no weatherman and he's not working to speed up global warming. Instead, he's spearheading an effort to bring a Food Igloo to the Queen City.
The stereotypically icy edifice actually will be a heated, snow resistant structure to give a dining area for mobile food vendor customers. Paldino has worked with SHP Leading Design to develop three potential designs that span various price points.
But the effort goes beyond Orchard Media and SHP. HighStreet Design Studio and Lifestyle Store, Aubrie Welsh Interiors; and event planner Joe Rigotti are all on board to help give the igloo a chic interior with high-class design.
All of these Cincinnati-based professionals are working to bring this unique concept as a brand experience unlike any other. "It's really important that it happens first in Cincinnati because Cincinnati is the land of brands — and branding and identity, and it's about time that we had a really cool concept that happens in Cincinnati," Paldino says.
While funding for the project is still in the works, the Food Igloo group envisions the structure to stick around the city for the three to four winter months of the year and then spend the rest of the time serving as a brand experience for the sponsor company.
"It would basically go on a Food Igloo tour, where it would hit Midwest cities," Paldino says. "So it would go from Cincinnati for three months and then Louisville for two months and then maybe go to Columbus and Indianapolis, and it would basically serve as a brand awareness for a newly launched product or something they're trying to test the market on."
For more information about the Food Igloo and to keep updated on the project, check out the initiative's Facebook page.
PHOTO CREDITS
Photographer: Neysa Ruhl
Model: Micah Paldino
Location: Cincy Chic office