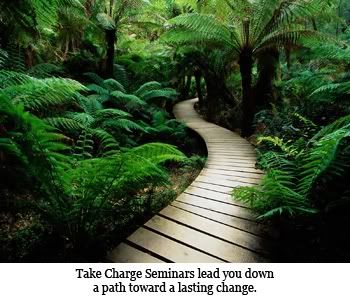 The holidays are here and the year is winding down. Before you know it, it'll be time to make yet another New Year's Resolution.
Instead of losing steam on that resolution halfway through January yet again, attend a Take Charge Seminar to develop the tools you need to make a lasting change.
Take Charge Seminars are headed up by Marybeth Grant, CCP, and Suzanne Telintelo, CCP. Grant is a Certified Life Coach, entrepreneur and business woman. Telintelo is a Certified Life Coach, a nurse psychotherapist and teacher.
"These seminars are about living from a place of unlimited possibilities, and realizing your dreams now," says Grant.
"Take Charge Seminars blends the best of the best," adds Telintelo. "It's where stress management meets the law of attraction, life transformation meets spirituality and self-improvement meets positive thinking."
Through these seminars, according to Grant and Telintelo, you will expand and incorporate the key ingredients to a healthy, prosperous, joy-filled life. More specifically, incorporating the techniques you learn in these seminars, you will reap the following rewards:
• Learn ways to keep your enthusiasm up so you don't lose momentum.
• Develop new tools that support you in making lasting change.
• Receive support and encouragement
• Have fun with a group of evolving and lighthearted spirits
Below is a seminar schedule for 2011. Attend these powerful seminars and learn how to "Take Charge" of your resolutions, and ultimately, your life.
A New Year, a New You!
January 22, 2011
Milford Retreat Center
Are you feeling frustrated or just uninspired about your life? Do you want to feel more alive in your own life?
It is time to start, to start anew it is time to begin again. What are you waiting for? Imagine you in the driver's seat of your life!
• Develop powerful dreams that inspire powerful action
• Listen to your inner voice
• Discover what passion stirs your soul
• Open to your life purpose and your spiritual connection
Refresh and Renew
April 30, 2011
Milford Retreat Center
Do your muscles ache? Are you tired and feel drained? Do you need some distance and perspective from your every day life? How would you like to have a relaxing, reenergizing and soothing day all to yourself? Come to Refresh and Renew, a one-day retreat and immerse yourself in an experience of well-being. All participants will have the opportunity to try a number of stress releasing techniques such as , massage, Reiki, Yoga, Tai Chi, meditation and many more.
Give yourself time to release stress and renew your passion for life!
Free to Be
July 16, 2011
Milford Retreat Center
What beliefs hold you back? Do you find yourself repeating old patterns? It's time to declare your own personal independence from limiting beliefs and blocking emotions.
• Free yourself from the chains of limiting beliefs
• Declare your independence from thoughts that hold you back
• Release your blocks to prosperity and peace
Unmask your Greatness
October 22, 2011
Milford Retreat Center
Do you feel you are an impostor in your own life? Do you wonder if anyone knows who you really are? Are you afraid to be who you really are?
• Get to know yourself better
• Realize the gold hidden inside
• Identify your strengths
• Let go of the fear to share your gifts
• Uncover who you really are
• Discover the joy of sharing your light
• Now is the time to be You!
Investment for each seminar: $249t
Bring a friend for an additional $50 (total $299)t
Groups of 5 total price is $550
Take Charge Seminars presents
The Enlightened Living Lecture Series
Have you decided once and for all to take complete control of your life? Join us as we explore the seven character strengths necessary to create the life you want.
1st Tuesday of each month in 2011
Time: 7-8pm
Place:
CMC Office Center
Seminar room
10901 Reed Hartman Hwy. #201
Cincinnati, Oh 45242
January 4th
Launch the Journey
What are the 7 character strengths necessary to create the life I want? Learn what it takes to move forward in your life with boldness and confidence.
February 1st
Master Your Mind
How's your mind? Do you control your mind or does your mind control you? Learn how to care for your thoughts as you would your most prized possessions.
March 1st
Living with Discipline
What can I do when it seems as though my mind is running the show? Practice a technique that will realign your thoughts to where you really want them to be.
April 5th
Follow Your Purpose
What is the secret to happiness and how can I tap into it? Explore the formula true happiness and joy.
May 3rd
Strides to Greatness
How do I experience remarkable results while enjoying the journey? Discover the daily process that will change your life.
June 7th
Respect Your Time
What do I do when I am being pulled away from my dreams and passions? Learn the 3 essential practices to live your dreams!
July 5th
Sharpen the Saw
Are you feeling dull, tired, or bored? Discover the best practices to improve and strengthen. your greatest asset – YOU!
August 2nd
Stop the "I'll do it later" Syndrome
How many times have you told yourself you'll do something and nothing happens? Learn how to stop the #1 killer of your success.
September 6th
Embracing the Present
How does worrying about the future or regretting the past keep you stuck? Lean a way to stay focused on the present – the only point of power.
October 4th
Suspend Disbelief
What if, just for today, you allowed yourself to belief you have it all? Learn how to reframe, rethink and re-speak your inner dialogue.
November 1st
The Power of Feelings
How would your life be different if your felt excited, enthusiastic and energized?! Experience a way to supercharge your emotional field.
December 6th
Open your Gifts
How have I grown this year? Realize the secret treasure that resides within you-it can transform your life!
$9.99/month
$49/6 months$75/entire year
For more information, check out www.TakeChargeSeminars.net. Questions? Call Marybeth at (513) 829-334.
Editor's Note: This is a special advertising section provided by Take Charge Seminars.
PHOTO CREDITS
Photos courtesy of Take Charge Seminars