Social
HoneyBaked for the Holidays
HoneyBaked for the Holidays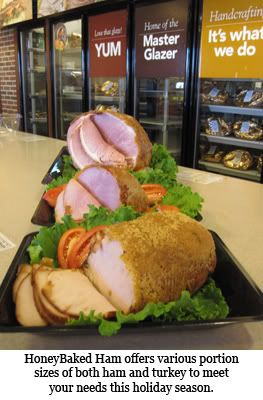 More than 50 years ago Harry Hoenselaar invented and patented the spiral slicer and opened the first HoneyBaked Ham store "with $500 and a second mortgage on his house," says Craig Kurz, HoneyBaked Ham CEO and Hoenselaar's grandson. Now, 450 retail locations later, The HoneyBaked Ham Company still uses its trademark spiral slicing for easy serving and Hoenselaar's secret recipe glaze for delicious eating.
Even with the hundreds of national locations, HoneyBaked Ham is still family owned and operated. "The HoneyBaked brand was built on the family concept. Our mission emphasizes our passion for great food and bringing families together to celebrate special occasions together," Kurz says.
Beyond the focus on family, HoneyBaked Ham also prides itself on its commitment to the customer as the company strives for 100 percent satisfaction. "We start with the best hams, smoke them longer than anyone, and finish them by hand in our stores every day. Each one is fresh and ready to enjoy," Kurz says. "Plus the customer gets to pick out their ham, so they go home with the exact ham they wanted — no surprises."
To ensure local satisfaction, Kurz and other corporate employees actually take the time to work in the HoneyBaked Ham stores to get the one-one-one experience with customers coming in the door. "We're a national brand, but we're anchored in the local markets," Kurz says. "We think national but act local."
Through that customer interaction, HoneyBaked Ham continues to reinvent itself to remain fresh and relevant to today's consumers and their lifestyle needs and demands. For example, HoneyBaked Ham offers much more than just ham for the holidays, and they even have catering and delivery options for everything from office lunches to family celebrations.
For your family's needs, HoneyBaked Ham has five Greater Cincinnati locations, and the Ohio HoneyBaked division corporate office is located in Mason. The Fields-Ertel location even has a cafe for dine-in lunches. So you can cozy up next to the fire place, eat some soup and munch on one of their signature sandwiches.
HoneyBaked Ham has partnered with Remke bigg's in the Greater Cincinnati area to make it convenient for customers to shop for the holidays. For special offers and coupons, product information and the locations nearest you, check out HoneyBakedForYou.com.
To meet Kurz and learn more about the variety of options available at HoneyBaked Ham, click the play button below.
Editor's Note: This is a special advertising section provided by The HoneyBaked Ham Company.
PHOTO CREDITS
Photographer: Linda Palacios
Location: The HoneyBaked Ham Company's Fields-Ertel store