Social
A (Financial) Community Effort
A (Financial) Community Effort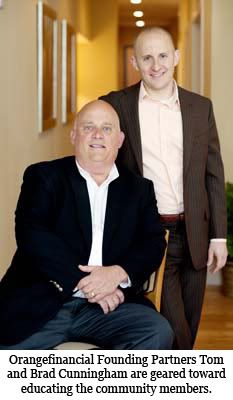 Money can be a touchy topic. Some people feel embarrassed by their debt while others don't want to gloat. But no matter your financial situation, Orangefinancial can help.
Geared toward educating its members and putting the power back in your hands, this financial community acts like any other community. It helps you gain confidence in yourself and your financial situation. It supports you through life's obstacles. And it offers connections to other people who are going through the same thing.
While Orange has no membership fee, there is one requirement you need to fulfill before entering the community. You must agree to being an active member of the community. Now, this doesn't mean you have to plan any events or sit in on any board meetings. But you do have to commit to the following:
Keep open lines of communication

Be respectful

Make your advisory team aware of any life changes

Provide full financial disclosure

Maintain or work toward saving 20 percent of your household income

Accept financial responsibility for your dependents

Agree to give back through opportunity
Once you agree to that, you start the educational process. With one-on-one sessions, you delve into your finances to find the strong suits and pitfalls of your current financial situation. Then your personal finance coach helps you patch those weaknesses to become "bullet-proof from life's unexpected events," so when the what ifs become what is, you don't have to struggle to get by.
Beyond taking control of your finances and gaining a true understanding of how the financial world works, Orange also offers you the chance to connect with other members through their various groups.
The Women's Advisory Board helps Orange itself become a better community. This group of 13 women includes a diverse group of Orange members. "We purposefully made it diverse because we wanted women from every aspect as best we could to be represented in the group," Orange Founding Partner Bradley Cunningham says. "That means we have divorcees, we have single parents, we have life partners, some people that make a good deal of money, some people that make very little."
With their diverse backgrounds, these women bring a full range of view points to the table to make Orange effective for anyone who walks through their doors. From branding decisions to curriculum content, the Women's Advisory Board uses their know-how to benefit the whole Orange.
In addition to the Women's Advisory Board, Orange also boasts ORNG (Orange Resource Network Group). Made up of all business owners, this networking group encourages business connections within the Orange community. "Our flagship message is if we can get local business owners to buy from other local business owners, more money stays in the local economy," Orange Founding Partner Tom Cunningham says.
ONTRACS, a third Orange group, focuses on helping parents afford to pay for their children's college education while teaching teenagers financial and professional responsibility. Kicking off this summer for high school sophomores, this six-year program will include yearly boot camps and consistent mentoring for program participants. Like the other Orange groups, all participants must be members of the Orange community.
For more information about Orange, check out TheOrangeTeam.com, and check out OrangeCincinnati.com for information on ORNG.
To learn about one Orange member's personal experience, click the play button below.
Editor's Note: This is a special advertising section provided by Orangefinancial.
PHOTO CREDITS
Photographer: Neysa Ruhl
Models: Tom and Brad Cunningham
Location: The McAlpin