Social
Cincy's Social Scene Online
Cincy's Social Scene Online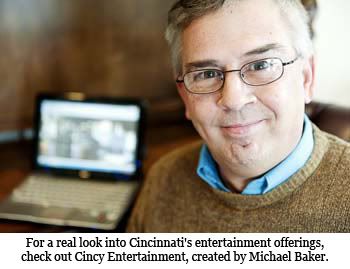 Online calendars and text postings can only do so much to give you a feel for what there is to do in the Queen City. For a real look into Cincinnati's entertainment offerings, check out Cincy Entertainment.
This broadcast-based business started as a way to promote local indie films and was born when Creator/Director Michael Baker approached local television stations about the idea. What started as an on-air look into local films grew to other entertainment venues. "We ended up changing the format from a talk show about films to what's new and exciting going on in Cincinnati," Baker says.
And Cincy Entertainment stays new and exciting by continually adding new events and entertainment options to its shows. In Baker's 40-some years living in the city, even he is finding out about places and events he never knew existed in his own hometown. One of these new-found entertainment venues is the world's only ventriloquist museum, the place where comedian Jeff Dunham went as a kid to learn his craft, and it's located right in Fort Mitchell, Ky.
"My motto is: Would you pay to watch it or go see it?" Baker says. If the answer is yes, then it will be on Cincy Entertainment. And the company continues to expand their local partners, which currently include places like Go Bananas Comedy Club, The Jazz Half and The Know Theatre.
While you can find Cincy Entertainment's show running 28 times a month at various times on different channels, you can find all of the shows and more right on the Web site. So you can check out new musicians or even nationally touring comedians' sketches right on the site.
If you have a recommendation for an event or entertainment opportunity for Cincy Entertainment to cover, you can contact them via their Contact section. "I just found an incredible acoustic quitarist through the Web site," Baker says.
Just remember that recommendations should hold up to Baker's motto: "Would you pat to watch it or go see it?" As a rule of thumb, Cincy Entertainment does not cover places to eat unless they have an entertainment side to their business.
For more information and to check out what's happening around town, head to Cincy-Entertainment.

PHOTO CREDITS
Photographer: Neysa Ruhl
Model: Michael Baker
Location: Fischer Homes